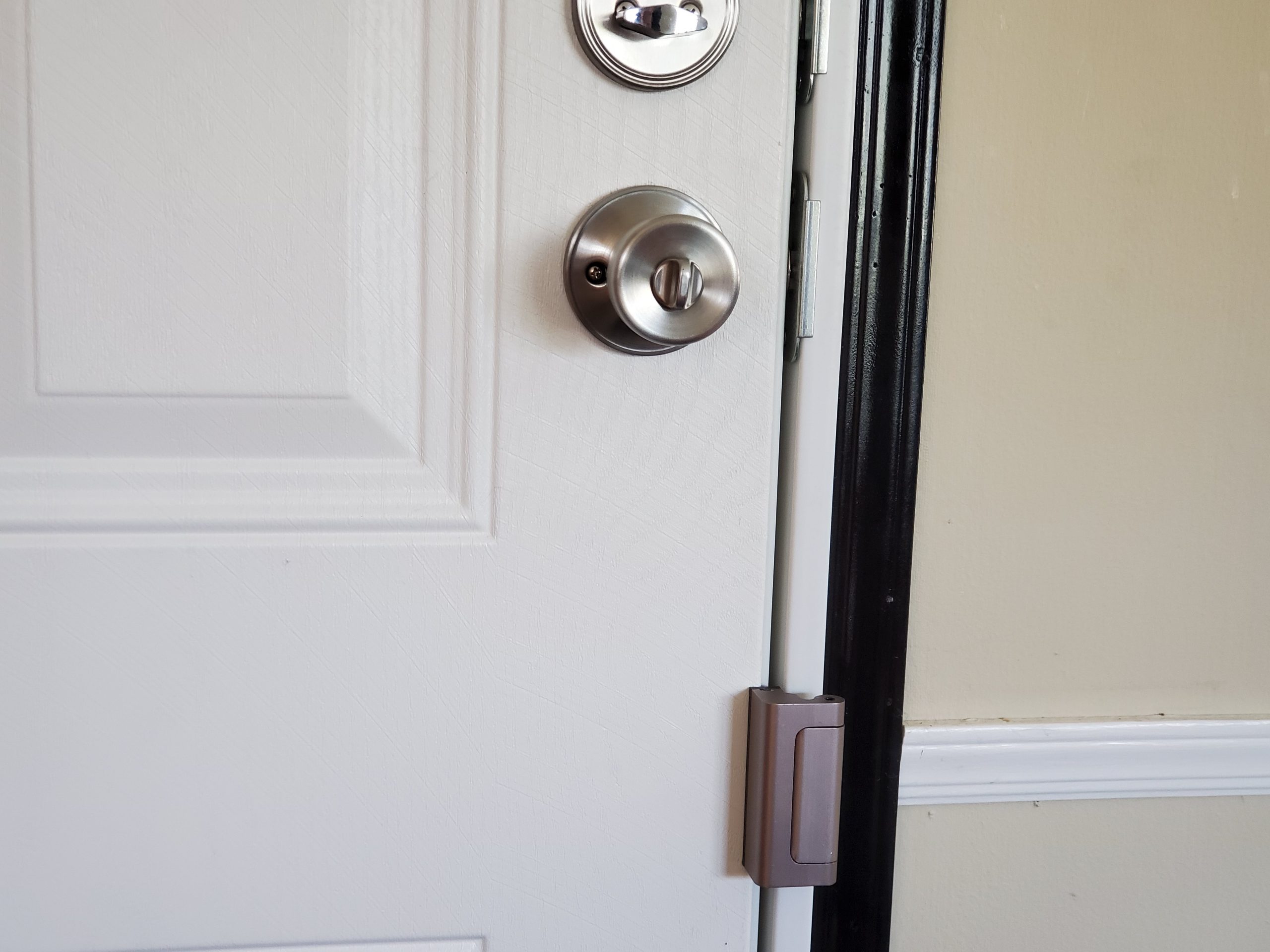 How secure is your average residential lock? Not very… If you are looking to stop someone from kicking-in your door, take a look at this easy to install locking device.
The high security door lock by Defender Security is a great way to add additional security to your front door. Built to withstand up to 800lbs of force, this lock was designed to help prevent your door from being kicked in.
In this article I will go over some of the reasons I think this an excellent choice for any home or apartment door where you are looking to "beef up" security.
---
Additional Home Security for Swing-in Doors
Having gone through not one, but TWO break-ins. I know the feeling of coming home, only to find your front door kicked-in and items missing.
It's a terrible experience.
Not only do you have the financial loss of whatever was stolen but some items are simply non-replaceable, no matter the commercial value. In additional to that, you will also have to go through the process of filing a police report AND fixing whatever damages were done to your property.
In both cases, the burglar was able to enter my home by kicking-in an entry door. Even with the door locked and deadbolt activated, the amount of force applied to the door was enough to bust it open.
I knew something had to be done.
Finding a door lock to prevent a kick-in attack
With a new door and frame installed, I still had concerns that this might happen again. But what are my options?
Well it turns out… there really are not that many.
Sure, you could bolt up a few brackets and hang a 2×4 across the door. But that is a pretty crude way of addressing the problem and not something I wanted on a main entry door.
That is when I came across an interesting lock by Defender Security.
---
Defender Security Door Reinforcement Lock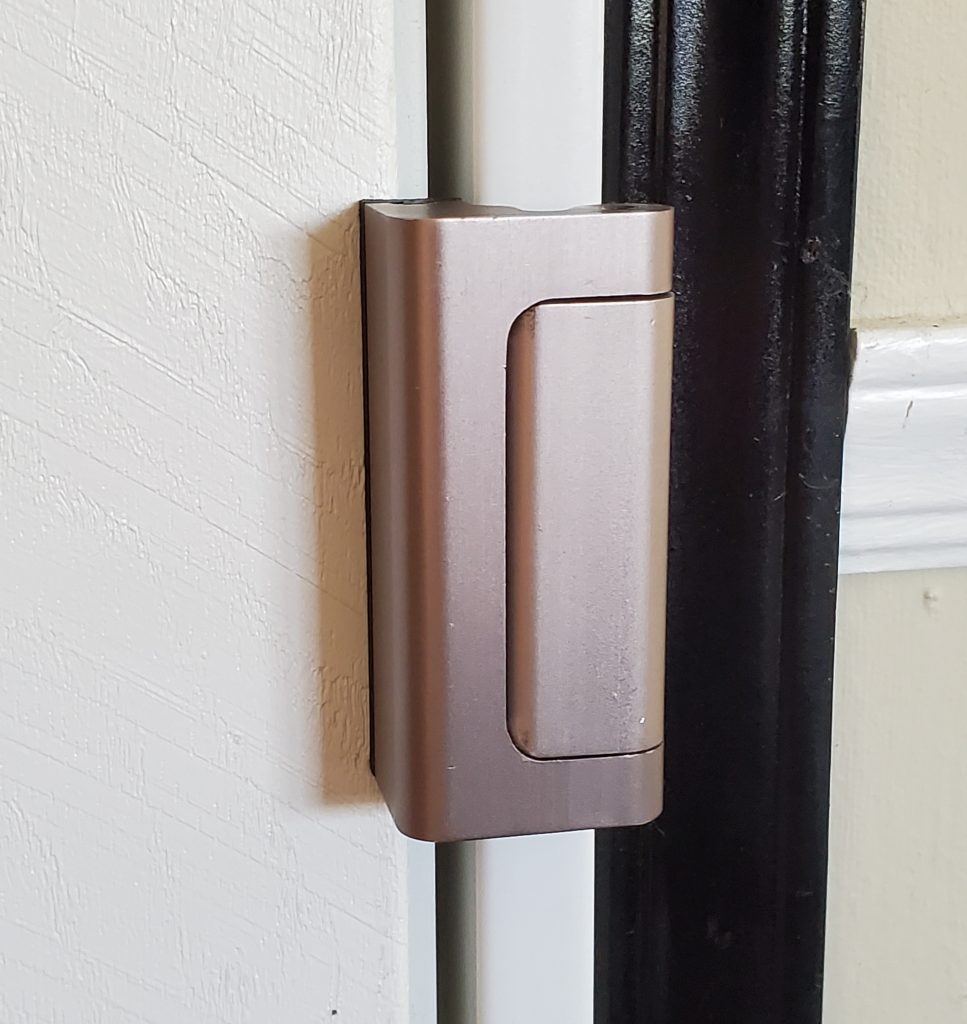 First I will start off by saying I own this lock and have been very impressed with it so far. Easy to install, provides kick-in protection and they are priced very fair.
What is nice about it is that you don't have to do any modification to your existing door handle lock or deadbolt…you simply ADD this in addition.
Great for Renters or Apartments
As mentioned above you don't have to mess with the current equipment. This is nice as some landlords will not allow you to modify the locks that are currently installed.
Also, you can always remove this device.
Once removed there will only be a few screw holes left behind on the door jamb. These can be easily filled with some wood putty and painted over.
Features
•  Extruded Aluminum construction
•  Rated to withstand up to 800lbs of force
•  Unable to be picked or "bumped"
•  Child-safe & Tamper Resistant
•  Currently Available in (4) Finish options
---
Installation & Operation
Overall installation is pretty easy and only requires a few common tools. A drill, 1/8″ drill bit and a phillips head screw driver.
*Note, in certain circumstances where there is not an adequate gap (1/8″ gap typical) between your door and frame you may need a chisel to allow the lock to sit flush in the frame.
Instructions are included and they even have a great video that shows how to use the lock & install. (see video below)
As you can see from the video above, operation is pretty simple but here is where I have a few concerns.
Lock Operation
To unlock, you have to grab ahold of the top and bottom of the lock (pinching motion), pull the lock away from the jamb, then flip over.
While this is in no means "hard" to do. It does require a unique motion and a decent amount of hand dexterity to operate properly.
For the very old, frail or handicapped this motion may be challenging. If so, I would probably suggest staying with a traditional deadbolt with a thumb-turn style unlock.
---
Overall Impression and Final Thoughts
All and all, I think this is a very clever lock and will be very effective in helping to prevent having your door kicked it.
It is well built, easy to install, seemingly effective and available at a pretty attractive price. You can remove the lock and take it with you, leaving behind minimal damage/modification to the door frame.
So if you are looking to add additional security to your inswing door and still have it look nice, I think this is a great option.