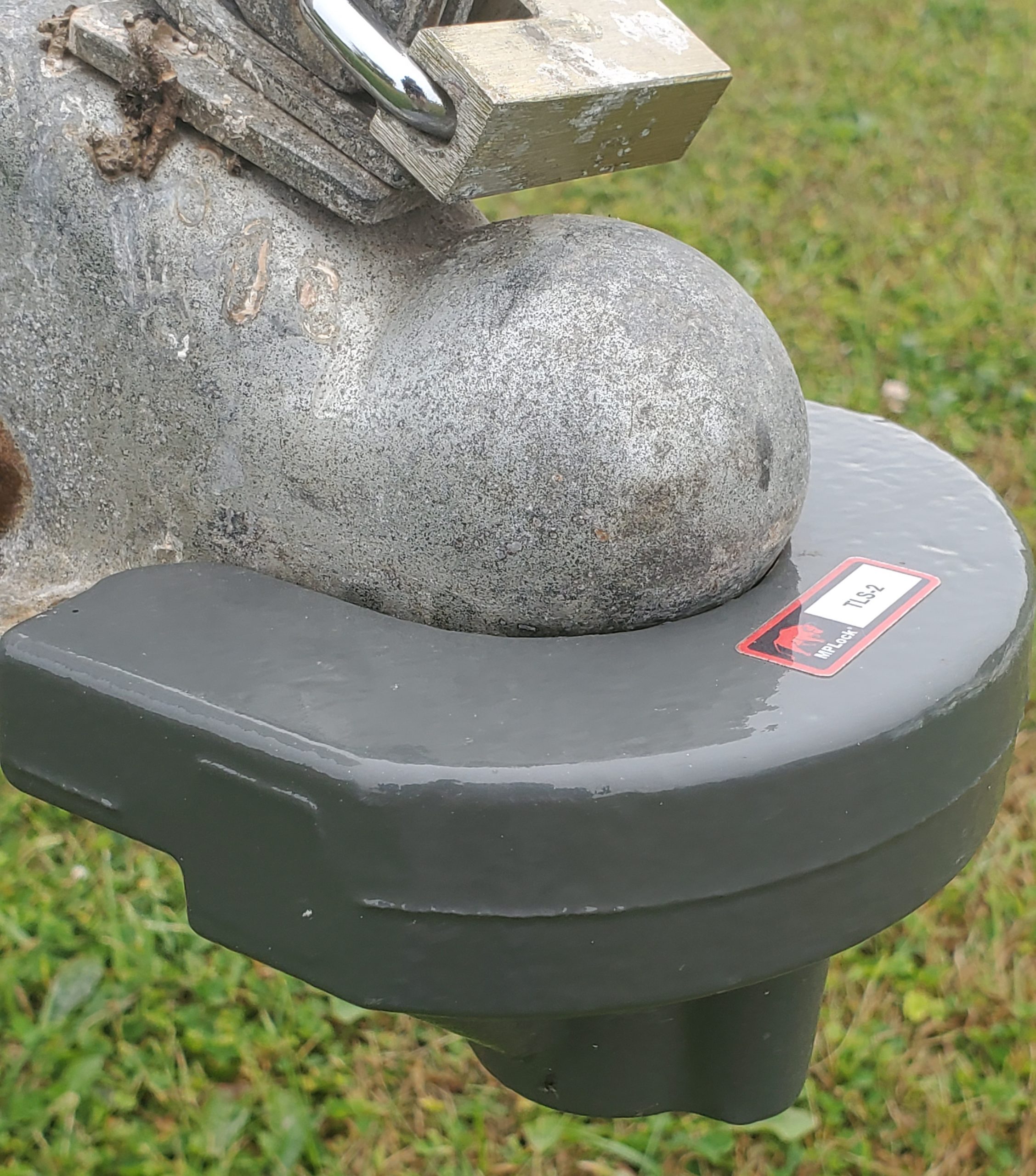 To protect your trailer from theft its going to take more than a padlock from the hardware store.  Keep your trailer hitch protected with these high quality locks from AMP Lock.
After searching around for a high-quality lock for my snowmobile trailer, I realized there really wasn't a lot of options out there.  The majority of these locks were very cheaply made and most online videos showed just how ineffective they are against any real attack.
That's when I finally came across a company called AMP Lock.
So if your looking for the best way to secure a trailer from theft, check out these products below.
---
Best Way to Secure a Trailer from Theft, Introduction
When talking about trailer security there are a few things to consider.
What type of trailer is it?  
Different types of trailers will require different kinds of security.  For example, an enclosed snowmobile trailer or construction trailer with doors that open will require additional locks that prevent thieves from stealing the contents within the trailer.
For more on these locks, check out the image below.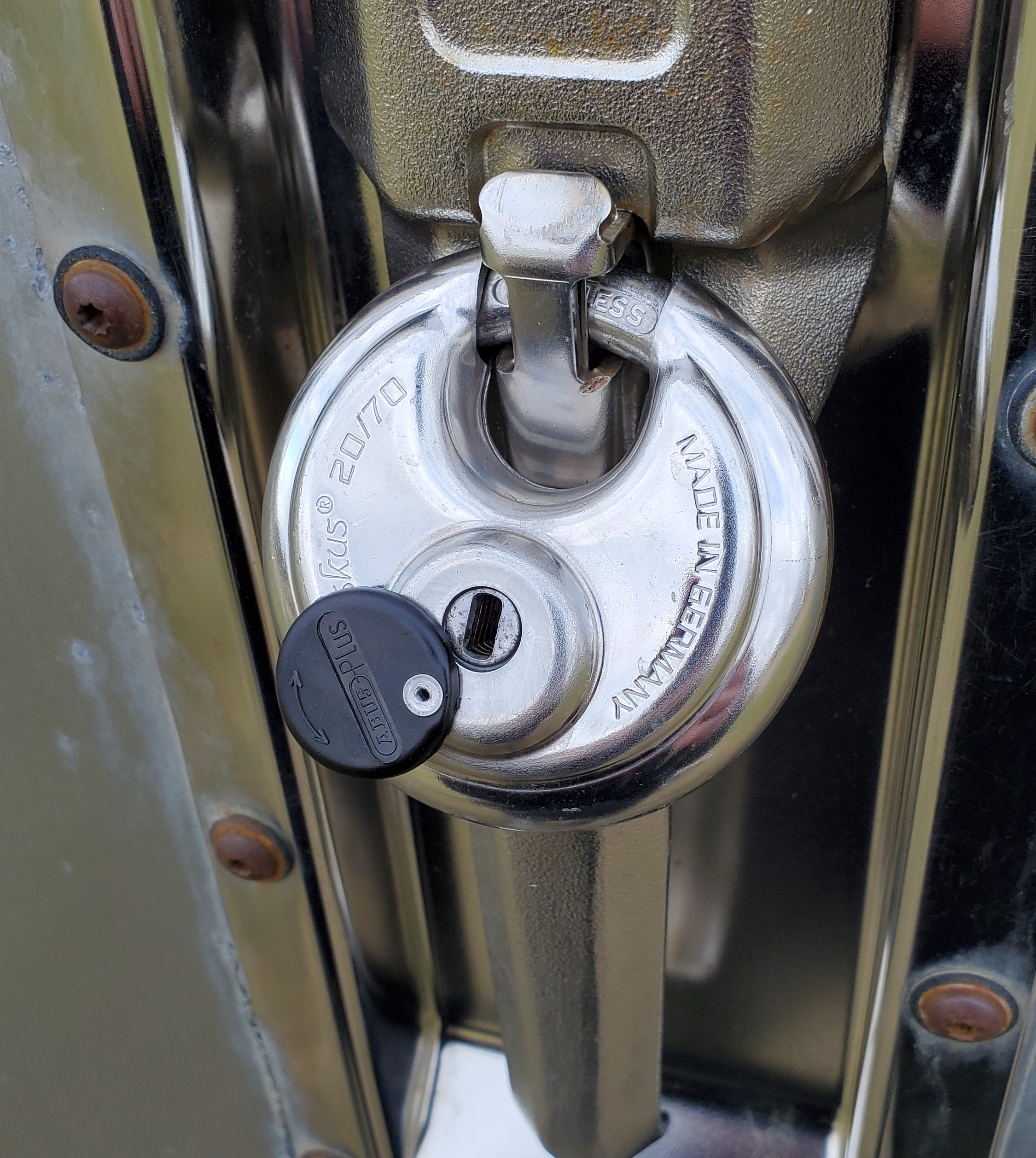 What is the overall value of the trailer & equipment?
When searching for a lock or security device, it is important to consider…"What is the value of the item?"
The reason this is an important question is because real security is not cheap.  This is true across everything from safes, locks, chains, padlocks, deadbolts, etc.
Trailers & motorsport equipment can easily reach tens of thousands of dollars.  Along with any tools & gear inside, these trailers are a prime target for thieves looking to make a big score.
So, If you are REALLY looking for protection, a $10 lock from the local hardware store is just not going to cut it.
Where is a theft most likely to occur?
There are a few ways to protect your trailer depending on the location.
When connected to your truck, it is important to have a high security hitch pin to keep your tow hitch locked in the vehicles receiver.  Again, the pins you will find at any local hardware store are just not going to cut it against any serious attack.
When the trailer is parked at home, a few layers of security is advised.  Since a thief can drive up to the trailer, hookup and drive-off with everything, this is not where you want to skimp out on protection.  Coupler locks, security chains, alarms and a camera system all can work in your favor.
---
High Security Trailer Hitch Pin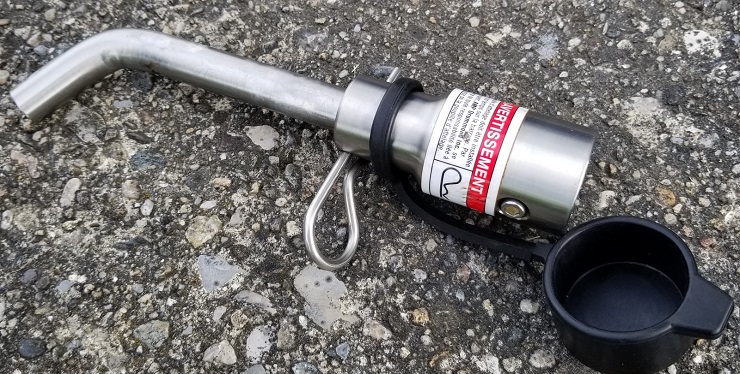 If you tow…anything. Then I would start by purchasing one of these High Security Hitch Pins.
These pins are used to secure your tow hitch into your vehicles receiver.  Regardless of what you are towing, you will need a pin.  So instead of wasting money on inferior options, "buy once, cry once" and pick up one of these pins from the start.
Made of all Stainless Steal & featuring a discus style lock, these pins are designed to last a lifetime.
Features:
3lbs of stainless steel resist cutting attempts
Resistant to torches and liquid nitrogen attacks
Great corrosion resistance
Discus style lock, extremely hard to pick, bump proof lock (great feature)
Includes rubber dust cover to keep debris out of the lock cylinder
What I like most about this pin is that you can feel it is a quality product.
Unlike the two pins I had purchased from local hardware stores (both failed after one or two years of service), the AMP Lock pin looks just as good as the day I received it.  With minor maintenance I feel that this pin should last many years of service, all the while providing a high level of actual security.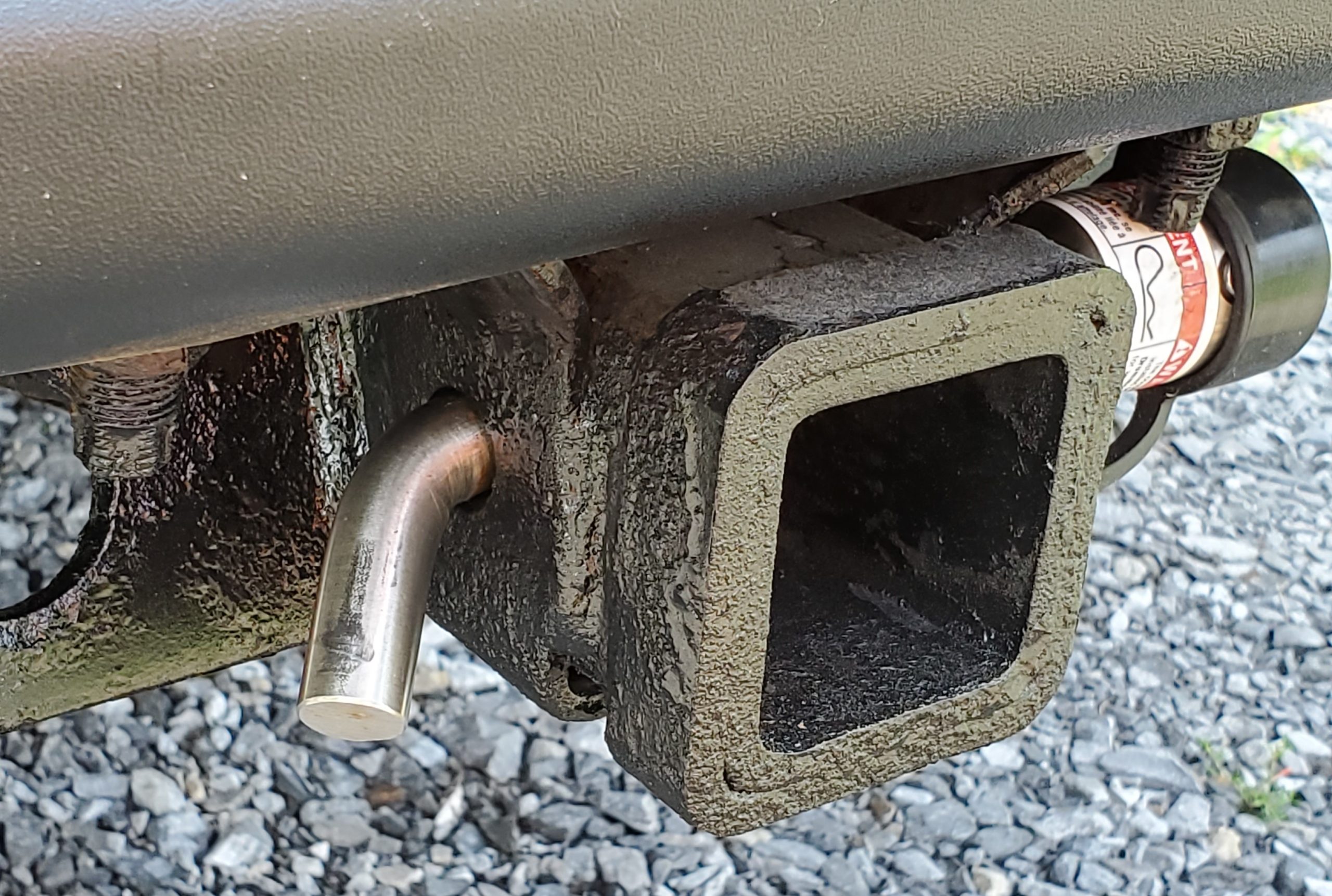 The biggest complaint I have seen from other reviews is that they did not measure their receiver and received a pin size that did not fit.  Other than that, these pins are rock solid and add another additional layer to prevent trailer theft.
---
Best Lock to Secure a Trailer from Theft, Coupler Lock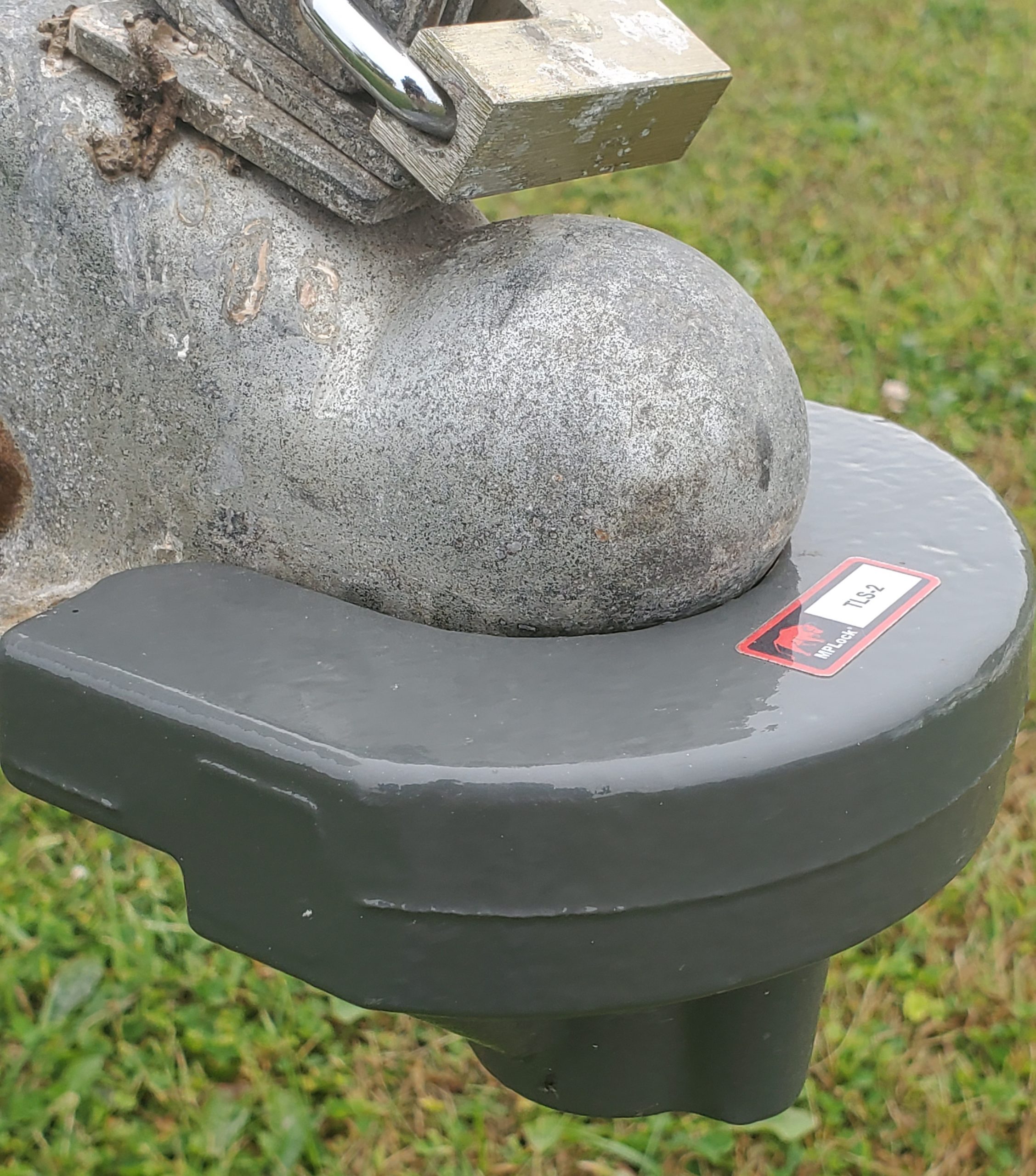 A coupler lock works by blocking the coupler from being hooked-up onto a truck hitch.
To be honest, for the longest time I never even knew locks like these existed.  Just throw a mini padlock on the latch and that was "secure".
Unfortunately, the padlocks available for the latch are really poor and with only a few strikes can be easily knocked off.
Deter Trailer Theft with a Coupler Lock
The lock in the photo above is the AMP lock TLS-2 Coupler Lock.
It is made from Ducted Cast Iron & Heat Treated Steel and features the same discus style lock as the trailer pin above.  They weight around 5lbs and are designed to slow down all cutting, prying or torching attempts.
Installation is easy
Just slide the assembly onto the hitch and use the key push up a metal bolt into the bottom.  Turn to key to lock it into place and your done.
Here is a short video for reference:

This model above is designed for specific 2″ Trailer Couplers, so just like the hitch pin, make sure you look at the product specifications to ensure it will fit.
Currently I use this coupler lock on both my snowmobile and boat trailer as they both share a similar (common) style hitch.  With this installed, I feel MUCH better about leaving the trailer parked vs relying on just the small padlock alone.
Features:
5lbs of ducted cast iron and heat treated steel
Resistant to torches and liquid nitrogen attacks
Great corrosion resistance
Discus style lock, extremely hard to pick, bump proof lock (great feature)
Made of American (USA) materials
---
Best Way To Prevent Trailer Theft, Conclusion
Hopefully you found some of these items and tips useful as you work to secure your investment.
Keep in mind there is Absolutely No Way to guarantee your property will not be stolen.  But, there are many things you can do that will Greatly Reduce the Likelihood of it happening.
When buying security products, remember you are buying time.  The better the product is designed, the harder it will be for the crook to overcome, usually resulting in more time spent.
By layering all of these products together.  Hopefully the thief will simply give-up or move along to an easier target all together.
To recap on the (3) products mentioned above:
AMP Lock Hitch Pin lock
AMP Lock Trailer Coupler lock
Thanks for stopping by, if you have any trailer security tips of your own, we would love to hear them in the comments below.
---
FAQ/ Additional Information
How to secure a boat trailer from theft
According to a report by the National Insurance Crime Bureau, there was a total of 4,240 watercraft thefts in 2019 (full report here)
To help prevent your boat from being stolen while on parked on your trailer here are a few helpful tips:
Use a high quality coupler lock (see examples above)
Chain the trailer to a nearby tree or structure
Remove a wheel (long-term storage)
Setup a camera system with motion alerts to monitor the area